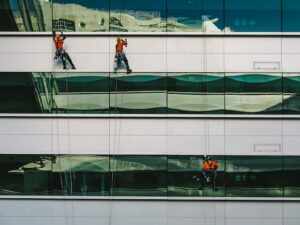 As a business owner, you want your commercial building to be energy-efficient and look professional. But have you ever thought about the size of your windows? Your commercial glass has a huge impact on the look and feel of your building. Read on to learn how big windows should be in commercial buildings!
If you need commercial glass for your business, call our team at Northwest Glass & Mirror now for a free quote.
There Are Many Considerations for Commercial Glass Window Size
Commercial glass companies face a unique challenge when it comes to window size. It's not simply a matter of preference. The size of windows in commercial buildings must fit with the specific needs of the business, the Houston climate, and local regulations. For example, if your business operates primarily during the day, large windows allow you to take advantage of natural light. However, it's also important to consider safety and security by choosing the right type of glass to prevent accidental breakage. It can be tricky to balance all these factors but Houston commercial glass companies like our team specialize in finding practical solutions that are both visually pleasing and utilitarian.
The Type of Business Affects Your Houston Commercial Glass
When you're deciding on window size for a commercial or retail space, think about the type of business you'll be doing. Are customers coming and going, or are the people in your building mostly employees? If you have customers in and out of the building like with a store, larger commercial glass windows are a great option for letting them get a visual of what to expect inside. On the other hand, if customers rarely visit your location, then smaller commercial windows may be just fine to provide natural light for your employees. At any rate, no matter what kind of business activities you have in mind, making sure you choose a window size that fits your needs is key.
Go Bigger for Retail Stores
If you're looking to set up shop in a commercial space, it might be worth considering larger windows. Not only do they offer more natural light, making the environment brighter and more inviting, but they also provide better visibility for anyone walking by. Consequently, prospective customers are more likely to stop in and browse what's on offer if they can see it from the street. Overall, larger windows are better equipped to draw in new visitors and help give your business a competitive edge.
Consider Smaller Windows for Offices
If you need office space, you want the right ambience and atmosphere in order to optimize productivity. In this case, going with smaller, rather than bigger windows is the best option. They can help prevent distractions without sacrificing natural light, which is really important. Not only does ample natural light reduce stress hormones and give a feeling of well-being, but it also helps cut down energy costs. Consider small windows so your offices can have great lighting while still being focused spaces where workers can enjoy more results-oriented days!
Get Quality Houston Commercial Glass from Northwest Glass & Mirror
When looking for commercial glass in Houston, there's no better choice than Northwest Glass & Mirror. As Houston's preferred glass company, we provide quality products and installation services that are reliable, safe, and time-efficient. With over 45 years in business, Northwest Glass & Mirror has the skill to help with any glass need that you might have. Whether it's installation of storefront windows or large conference room partitions, Houston businesses large and small can trust in the expertise of Northwest Glass & Mirror when it comes to Houston commercial glass.
The size of the windows in your commercial building is an important design decision that will be dictated by a variety of factors including the type of business, the climate, and the building's location. Our glass experts are here to help you choose the perfect size windows for your commercial building. Northwest Glass & Mirror provides high-quality Houston commercial glass services at competitive prices—call us at (281) 463-7801 for a free quote today!