Glass Shower Enclosures & Doors – Residential Glass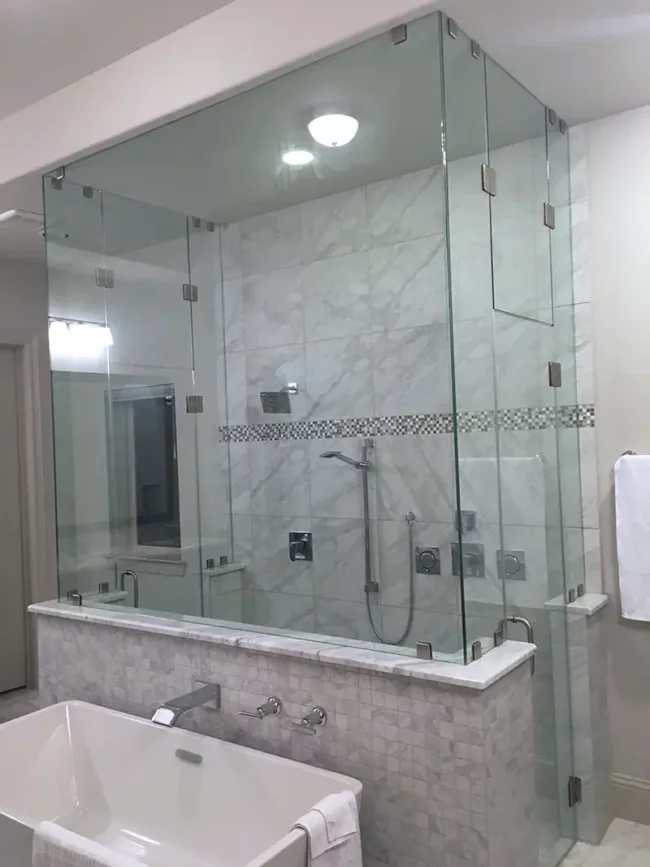 Your bathroom is one of the most visited and visible areas of your Houston home. Dated shower enclosures or broken doors can significantly reduce the appeal of your bath area and can even present hazards for your family and friends. The friendly Houston glass company experts at Northwest Glass & Mirror can provide you with start-to-finish support for your bathroom renovation project. By working with us, you can enhance the beauty and functionality of your bathroom to improve the value of your entire home.
We have a shower door company that specializes in glass shower doors and enclosures.
Repair Services You Can Depend On
The highly trained technicians at Northwest Glass & Mirror can repair or replace broken glass in shower doors and enclosures to restore their original beauty and to provide a safer environment for you and your family. We can also repair residential mirrors to ensure clear visibility and an attractive appearance for these vital accessories to your bath area. From small crack repairs to full replacements, we deliver the repairs you need to keep your bathroom looking its best.
Support for Your Remodeling Project
Upgrading your bathroom can not only enhance its appearance but can also increase the value of your home at the time of eventual resale. Our expert tech team can install custom shower doors and enclosures that provide added privacy while protecting against leaks and moisture. Frameless shower enclosures are a popular choice in the Houston area and offer a modern look for your entire bath. Northwest Glass & Mirror can install all types of residential glass for your shower doors and enclosures, including frosted, glazed and bubble glass. By replacing your current shower enclosure or tub-and-curtain arrangement, you can ensure the most beautiful results for your bath remodeling project.
We Work with Local Contractors
Northwest Glass & Mirror has been a leading Houston glass company for more than 35 years. If you are considering a major remodel or new construction, we can help you create the custom shower enclosure or doors to complement your bathroom's new look. We can also help you choose the right framed shower doors to highlight the beauty of your bathroom area. Our years of experience in working with construction companies and remodeling firms allows us to provide you with the support you need to create a new look for your bathroom and throughout your home.
At Northwest Glass & Mirror, we offer expert repair and installation of residential and commercial glass to provide you with a safe and secure environment. Our knowledgeable technicians can deliver the best solutions for all your glass repair and replacement needs. We can replace glass window and door panes to ensure a secure perimeter for your home or business. From Low-E window glass to custom mirrors and tabletops, we have the right solutions to enhance your Houston home or business. Give us a call at 281-463-7801 or stop by to discuss your bathroom remodeling project with one of our trained technicians. We are here to serve your glass repair and replacement needs.