Glass Shelves, Shelving & Cabinets – Residential Glass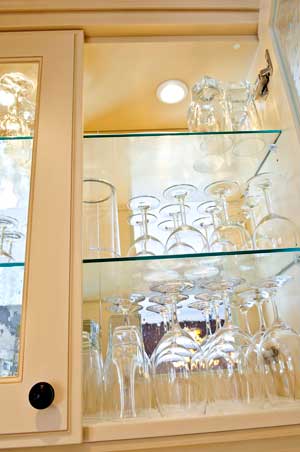 The right furnishings can enhance the beauty and livability of your Houston home. Maintaining glass doors, countertops and shelves in tip-top condition can promote greater longevity for your valuable furniture. At Northwest Glass & Mirror, we can install replacement glass for a wide range of furnishings. We offer expert residential and commercial glass services tailored to your requirements and designed to help you achieve the most beautiful and durable results for modern and vintage furniture and accessories.
Residential Glass Repair and Replacement
Glass doors and panels provide clear visibility for china cabinets, armoires, entertainment centers and many other items inside your home. The professional technicians at Northwest Glass & Mirror can install tinted and decorative glass to enhance the look of newer pieces and to restore antique and vintage furniture to its original glory. We are a family-owned Houston glass company with more than 35 years in the industry. Our expertise ensures that your restoration or replacement project is completed quickly and to your precise specifications. We can even create residential mirrors to complement your existing furnishings or as stand-alone items to enhance your home's interior design.
Glass Shelves and Cases
For both commercial and residential environments, glass shelves can provide a beautiful and practical storage option. Glass exhibit cases are ideal for use in public areas of office and retail buildings and can provide protection for their contents while allowing clear visibility. Northwest Glass & Mirror can provide thick glass shelving with or without beveled edges to complement existing furnishings and to ensure the greatest degree of safety in the working environment. We can also install tempered or laminated glass to provide superior durability and safety in work areas and public spaces.
Tinted and Decorative Options
At Northwest Glass & Mirror, we install tinted and silk-screened glass in a wide array of colors and designs to complement your furnishings and your décor. Whether you need a match to an existing design or an entirely new look for your vintage furnishings, our expert glass technicians can provide you with the right colors and finishes to enhance modern furniture and to restore antique pieces to their sparkling best. We work with you to determine the best and most practical choices for your heirloom furniture and to create functional works of art for your Houston home.
The glasswork professionals at Northwest Glass & Mirror specialize in providing expert installation and replacement of broken window panes, chipped table tops and other items for residential and commercial customers. We also install framed and frameless shower enclosures to enhance the beauty and the value of your home. Our expert glass technicians will work with you to provide the ideal solutions for all your repair, replacement and design needs. To learn more about our full lineup of commercial and residential glass services, give us a call at 281-463-7801 or stop by our offices at 5106 Highway 6 North. We look forward to the chance to work with you.