Glass Table Tops – Residential Glass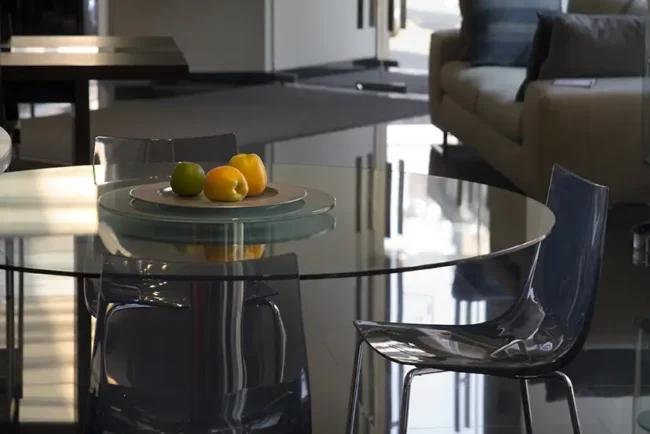 Kitchen, living room and dining room tables are gathering points for the whole family. Keeping these items of furniture in good working order can ensure that they stay beautiful and functional for many years to come. The residential glass experts at Northwest Glass & Mirror can create custom table tops to complement your décor and to fit your tables perfectly. By working with us, you can enjoy greater longevity for your prized furnishings and easier cleanups after meals or snacks.
A Variety of Shapes and Types
For most table top applications, tempered glass provides a solid balance between sleek good looks and durability. Tempered glass is typically more resistant to changes in temperature, making it an ideal choice for kitchen use. Patio tables may be laminated to provide even greater strength and to ensure the greatest utility for outdoor use. Clear glass may be sufficient to provide protection for coffee and end tables or the tops of dressers or desks. Northwest Glass & Mirror can cut glass to any size or shape to provide the perfect complement to your interior and exterior furniture.
Decorative Options for Your Home
You can select from a variety of decorative options when ordering your glass table tops. Northwest Glass & Mirror carries patterned decorative glass designed to suit your existing décor. From silk-screened glass designs to crystal-clear dining room table tops, we can deliver the most beautiful and resilient glass for almost any indoor or outdoor application. We can even cut tinted glass to suit your current color scheme and to enhance your interior décor. Our expert technicians will cut your choice of glass to your precise specifications to create the most beautiful and durable table top for your Houston home.
Solutions for All Your Glass Needs
Along with our custom residential glass table tops, we can also create commercial glass solutions for desks and workspaces. You can choose from an array of glass types that include durable tempered and laminate glass. This can prevent routine wear and tear on wood desks and can preserve the finish of these items, reducing the cost of maintenance and replacement over the useful life of your office furnishings. By investing in top-quality desk and table tops from Northwest Glass & Mirror, you can lower your overhead while providing employees with the best possible working environment in your facility. At Northwest Glass & Mirror, we take pride in delivering the best glass services for our customers. We are a Houston glass company with more than 35 years of experience in creating and repairing glass windows, residential mirrors and commercial products. Our professional glass technicians can install shower glass, table tops, window and door panes and many other types of glass to enhance your home or business. Call us at 281-463-7801 to set up an appointment with one of our expert technicians and to learn more about your options in the table top marketplace.