Mirrors – Residential Glass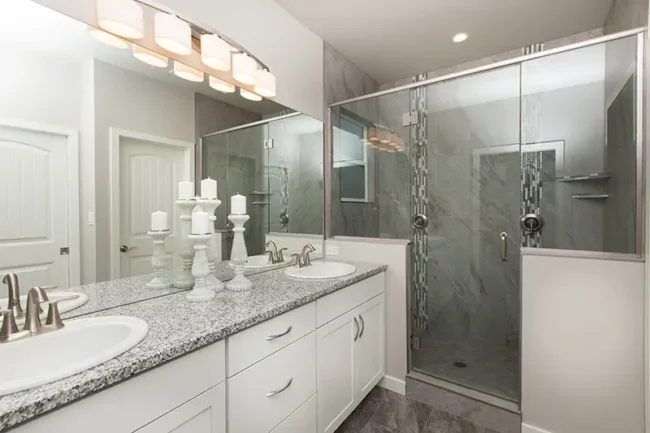 Mirrors can be used to create the illusion of added space or to highlight specific areas of your home. These versatile decorations can also serve a practical purpose in bathrooms and bedrooms. Northwest Glass & Mirror is a Houston glass company dedicated to providing a wide array of residential and commercial glass services for the metropolitan area. We specialize in creating beautiful residential mirrors and in repairing heirloom pieces to restore their original pristine glory. Our glass technicians will work with you to ensure that you are completely satisfied with the end result of your project.
Enhancing Your Home Décor
Adding a large mirror to one side of a smaller room can expand the visual space available in these areas. Mirrors can also be used behind sculptures and floral arrangements to increase your enjoyment of the beauty of these items. When combined with lighting, decorative mirrors can even be used to highlight portraits and other artworks. Repairing your existing mirrors or investing in custom mirrors from Northwest Glass & Mirror can enhance the appearance of your Houston home.
Bathrooms and Bedrooms
The mirrors in your bathroom and bedroom areas are more than mere decorations. You and your family use these mirrors to shave, put on makeup, brush teeth and many other daily tasks. Broken or dimming mirrors can make it harder to manage these activities quickly. The glass technicians at Northwest Glass & Mirror can replace the glass in these essential mirrors or can craft brand-new custom mirrors to suit your needs.
Mirror Repair and Replacement
Antique mirrors and furnishings require special care during the restoration process. At Northwest Glass & Mirror, we have more than 35 years of specialized experience in repairing valuable antique mirrors and replacing glass for these items. Our expertise means that you can enjoy greater peace of mind when entrusting these precious family heirlooms to our talented technicians. Our knowledge and experience ensures that your piece will be handled safely and restored to its former glory.
Custom Mirrors for Specialized Needs
The tech team at Northwest Glass & Mirror can create mirrors to your precise measurements and specifications, allowing you to enhance your home with a custom work of art. Whether you need an oval or rectangular mirror to accent a mantelpiece or a standout custom mirror for your living room, our residential glass experts can provide the look you want at an affordable price.
The professionals at Northwest Glass & Mirror can restore your old mirrors or create new mirrors to your exact specifications. We work with you at every step of the way to ensure that your finished project meets your expectations and suits your needs. Stop by our office on Highway 6 North or give us a call at 281-463-7801 to speak with one of our team of glass technicians. We look forward to hearing from you.