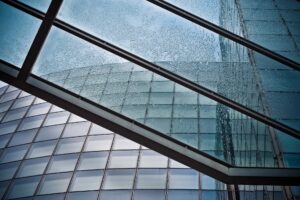 There are many ways to use Houston commercial glass in your business. Glass canopies are becoming more and more popular as an architectural element. They can create a major impact for your company's storefront. If you're looking to improve the look and function of your business' entrance, consider adding a glass canopy. 
What are Houston Commercial Glass Canopies?
A canopy is a protective covering, usually found above a door. Many businesses have canopies to protect visitors from the elements as they enter and exit the building. A glass canopy is, as you've probably guessed, a canopy made of glass. Houston commercial glass canopies typically include metal supports made of strong metals like steel to hold the glass in place. In addition, glass canopies are made of strengthened glass, such as tempered or laminated glass. In many cases you need thick Houston commercial glass panels to ensure the glass is strong and durable. 
You can choose from many different types of glass for glass business canopies. For example, you might choose textured glass to help camouflage things like dirt and bird droppings between cleaning sessions. Other options would be colored glass to create a unique look for your business entrance. However, clear glass is one of the most common choices for glass commercial canopies to let plenty of light in and create a sleek, modern look. 
Benefits of Glass Canopies for Business Entrances
There are many reasons to consider installing a glass canopy for your business. Glass is a more durable option in many cases compared to fabric canopies many other businesses have. Therefore, working with your Houston glass company to create glass panels for your canopy can help you get a long-lasting option for your company's entrance. 
Another great reason to use Houston commercial glass for canopies is because it doesn't block other architectural details of your building. Using clear glass means your canopy doesn't interfere with other aesthetic elements of your building's exterior. It also allows plenty of light through so you don't have to worry about having a dark entrance for your business. 
Also, glass canopies just look nice. They look modern and sophisticated, adding visual appeal to your building. Therefore, if you're looking to enhance your building's entrance with a canopy, consider using glass. 
Northwest Glass & Mirror – Top Houston Glass Company
At Northwest Glass & Mirror, we've been providing top quality glass since 1978. We are proud to serve the Greater Houston area with residential and commercial glass services. Our team has the knowledge and expertise you need for everything from commercial glass for storefronts to Houston residential mirrors. Choose our glass experts for new construction, glass repair, glass replacement, and remodeling projects. Call us today at (281) 463-7801 to discuss your glass needs with our pros and get a free quote!