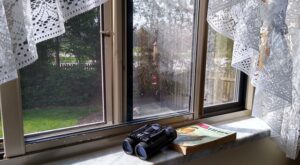 Bird feeders are a great way to get eye-catching views of local birds. Yet, if you're not careful with bird feeder placement, you could end up with injured birds and damaged Houston residential glass. Birds frequently fly into window glass and injure themselves and damage the glass. It's important to do what you can to prevent bird/window collisions.
Birds are pretty smart, but regularly run into windows of all types and sizes. The windows in your home can actually pose a serious threat to your feathered friends. This is because in the daylight, the glass often reflects nearby trees and sky. This can trick birds into believing there's more open space to fly through. At night, birds are often drawn to interior lights seen through windows as well. This creates another unfortunate opportunity for birds to run into windows and injure themselves or damage your residential windows. In this article, we will go over some recommendations for bird feeder placement and other solutions to help protect your Houston residential glass from bird collision while still enjoying bird watching from your bird feeders. 
How Close to Houston Residential Glass to Put Bird Feeders
As a Houston glass company, we have fixed countless windows after birds have flown into the glass. Frequently, this is because homeowners unintentionally put their bird feeders in dangerous places for birds. The "danger zone" for bird feeders is between three feet and 25 feet from a window. Therefore, you want to place your bird feeders either closer than three feet or more than 25 feet away from your Houston residential glass. 
In this danger zone for birds, they can gain serious momentum, making the impact bad enough to injure themselves, even fatally. Even if a bird seems to be okay and fly off after a window collision, it may die later of other injuries like internal bleeding or brain injuries. Therefore, for both the birds' and your windows' sakes, try placing bird feeders outside of this danger zone. 
Other Options for Preventing Bird Collisions with Your Windows
Obviously, not everyone can place their bird feeders far enough away, though. For instance, if there isn't enough room in your backyard or if you won't be able to see your bird visitors by placing the feeder that far away. In these instances, or just as an additional safety precaution, you can also add visual aids for birds to avoid. 
These can be as simple as colorful sticky notes outside the window. You can even find special UV window decals designed specifically for birds to see. These solutions can help show birds that the window is there and they need to avoid it while flying. Just make sure you apply these visuals to the outside of the window (where it will interfere with the exterior reflections), and also make sure the visuals are close together. 
Northwest Glass & Mirror – Trusted Houston Glass Company Since 1978
Whether you need new windows because of an unfortunate bird collision or you're simply ready for an upgrade, our team at Northwest Glass & Mirror is here to help. We've been proudly serving the Greater Houston community since 1978 by providing high quality glass repair and installation services. We offer affordable, quality solutions for everything from commercial windows to Houston residential mirrors. Call us today at (281) 463-7801 to discuss your glass needs with our experts.