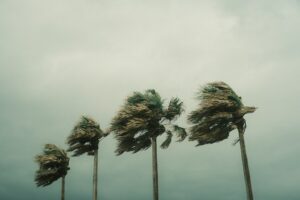 As a business owner in Houston facing hurricane season, you may be worrying about how to protect your building from the surges of wind and rain. Transforming your storefront windows into a sturdier structure should be at the top of your list. After all, large panes of glass can easily break during intense storms, leading to costly repairs. 
With just a few strategic measures, you can reinforce your storefront windows so that they're more resistant to damage from high winds and debris. Keep reading for tips on how to prep store-front windows for hurricanes and become ready for whatever mother nature has in store. To invest in a long-term solution and get a quote for hurricane-resistant windows, contact us today.
Understand the Houston Hurricane Season and Know When to Prepare
The subtropical climate in Houston comes with a downside—hurricane season. When the winds start to pick up and the skies turn grey, it's important to be prepared. The Houston hurricane season typically runs from June 1st to November 30th, with the peak of the season falling between August and October. However, hurricanes can form outside of this timeframe as well, so it's important to always be vigilant. Stay informed by checking the news, investing in a weather radio, and having a plan in place for you and your family. When it comes to hurricanes, it's always better to be over-prepared than under-prepared.
When a Storm is Imminent, Make Sure all Seals are Airtight and Properly Sealed
Living in Houston, we are no strangers to powerful storms that can wreak havoc on our homes and businesses. It is important to make preparations before the storm hits, and ensuring that all seals on your commercial glass are airtight and well-sealed is crucial. The last thing you want is for rainwater to seep in and cause damage to your property. By taking the time to double-check around all your storefront windows to ensure seals are in place and free from damage, you can have peace of mind knowing that you are proactively protecting your business from an impending storm.
Add Temporary Protection to Your Houston Commercial Glass Windows Before a Hurricane
When a hurricane is coming, protecting your storefront windows is essential to prevent damage to your business. It's important to plan ahead and protect your business before the storm arrives. Fortunately, there are short-term/temporary options that you can use to keep your windows safe.
One option is to use plywood to board up your windows. While not the most aesthetically pleasing option, it is effective and readily available before a storm. Another option is to use storm shutters made of metal or polycarbonate. These can be installed before the storm and removed once it passes. Both options provide a layer of protection against wind and debris, which can potentially save you from costly repairs. 
Invest in Long-Term Window Protection Options 
When it comes to protecting your business from the potential devastation of a hurricane, it's a good idea to consider long-term options. Houston commercial glass experts recommend investing in hurricane-resistant windows for added protection and a more permanent solution. These specialized windows are designed to withstand strong winds and debris, and can last for years with proper maintenance. Investing in long-term protection measures can save you time and money in the long run.
Houston Commercial Glass from Northwest Glass & Mirror
Our team has years of experience fabricating and installing custom glass and mirrors for residential and commercial applications. We take great pride in providing high quality pieces that will stand the test of time. So if you're living in Houston and require hurricane-proof glass for your storefront, don't hesitate to contact us. Our friendly staff will be glad to provide you with a quote based on your specific needs. 
Don't let another storm sweep away your hard work—get in touch with Northwest Glass & Mirror today!