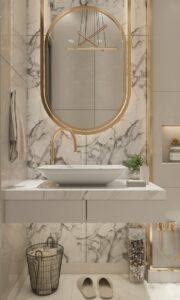 There's nothing worse than cleaning your bathroom and noticing streaks all over your Houston residential mirrors. Streaky mirrors look bad and can make your whole home appear shabby. Instead, try our tricks for getting a streak-free finish on your mirrors every time:
Secrets for Streak-Free Houston Residential Mirrors
If it feels like every time you wipe down your mirrors they end up looking streaky, you're not alone. Many people have this problem, even wiping their mirrors and glass down several times in one go to remove all the streaks. However, there are some great tricks to help you clean mirrors sans streaks. Here are some tips to help:
Spot Treat Grease and Grime
When you have stained clothes, what's the first thing you do before throwing them in the wash? You spot treat the stain! Well, you should be doing the same with your Houston residential mirrors. While it's tempting to simply try to scrub spots off with the glass cleaner, all this really does is smear the grime and make your mirrors streaky. Instead, before you break out your glass cleaner, start with a cotton pad and some rubbing alcohol. Rubbing alcohol can help dissolve things like splattered toothpaste, fingerprints, hairspray, and other smudges. Taking care of these before using glass cleaner makes cleaning mirrors easier and can stop streaks in their tracks.
Use Microfiber Cloths to Clean Houston Residential Mirrors
Another important tip for getting streak-free mirrors is to use a microfiber cloth for cleaning. If you're still using newspaper to clean your mirrors, we have some breaking news for you: this "hack" doesn't work anymore. Modern newspaper ink can leave behind a residue that is difficult to remove and can cause streaks. However, you also don't want to use paper towels, as these can leave behind lint and make your Houston residential mirrors look dusty. 
Microfiber cloths are lint-free, pick up dust and grime, and are soft enough to use on glass surfaces. Therefore, your Houston glass company recommends using microfiber to wipe down your mirrors with glass cleaner. 
Choose the Right Cleaning Product
Speaking of glass cleaners, it's important to use the right cleaning solutions for mirrors. Using any old soap will just leave behind a foggy, streaky residue. Instead, you want something that doesn't suds and dries quickly. Now, this doesn't mean you necessarily need a store bought glass cleaner. You can use homemade cleaners like water and vinegar solutions. Just avoid soaps, detergents, and anything with oils in it. 
Mist, Don't Soak Your Mirrors
One of the biggest mistakes we see people make when cleaning mirrors is that they use too much glass cleaner and soak the surface. This makes it hard to effectively wipe away the product and can lead to streaking. Instead, lightly mist the mirror so it's moistened but not soaking or dripping. It helps you effectively clean and buff the mirror. This also helps you save cleaner over time, so it's a win-win situation.
Need New Mirrors? Call Northwest Glass & Mirror – Your Houston Glass Company since 1978
When you need glass or mirrors, our team at Northwest Glass is here to help. We've been a trusted Houston glass company for 44 years offering a variety of glass services. Our team can help with everything from residential windows to Houston commercial glass. We offer superior craftsmanship, top quality materials, and dedication to your complete satisfaction. Call us now at (281) 463-7801 to get a free quote!