Do you have Houston commercial glass doors? These make your storefront look beautiful and help entice people to come into your building. However, make sure you're cleaning your doors regularly! Regular cleaning helps keep your glass doors looking good and in great condition. We have a few tips and tricks to help you get gorgeous, clean, and streak-free glass doors for your business.
Cleaning Your Houston Commercial Glass Doors Regularly Helps Prevent Damage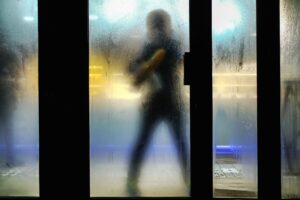 There are a few reasons why you need to clean your Houston commercial glass doors frequently. Now, obviously dirty doors can make a bad first impression. However, what a lot of people don't realize is that letting dirt and grime build up on glass can lead to premature wear and tear and damage. 
Dirt, grime, and water spots can all lead to scratches in the glass surface. They can also damage seals and gaskets that help keep weather out of your building. Also, they can also encourage corrosion on metal components like hinges and frames. Cleaning your commercial glass doors can help you avoid these issues.
Over time, that damage can quickly add up, which means you could be paying more in repairs and replacements. Instead, a thorough cleaning can save you a lot of time, hassle, and money. So, whether you, your employees, or your cleaning company cleans your Houston commercial glass doors, make sure it gets done at least twice a week with proper cleaning solutions and methods.
How to Clean Glass Doors for Your Business
Cleaning Houston commercial glass doors is a pretty quick and simple process. Here are some steps to take:
Clean the door frame (how you do is based on the material of the frame)

Lubricate hinges, handles, and locks

Use a microfiber towel to dust off the glass 

Use soapy water to clean off dirt, finger prints, and grime from the glass

Dry the glass thoroughly

Follow up with a glass cleaner for a streak-free shine on your glass door
Here are some tips for cleaning glass doors for your business:
Wait for a cloudy day, as sunshine can dry cleaners out faster and lead to streaks

Work from top to bottom to avoid streaks

Use a squeegee or lint-free cloth for crystal clear glass

If you or your employees have allergies or asthma, you may need to avoid traditional glass cleaners with ammonia, as they can trigger symptoms. Instead, use an ammonia-free cleaner or you can even

make your own glass cleaner

with ingredients you can find at your local supermarket.

Always follow any care instructions from the door's manufacturer for best results
These tips from your Houston glass company can help you get the best looking glass commercial doors in town! 
Trusted Houston Glass Company for All Your Glass Needs
Make a great impression with beautiful glass solutions from Northwest Glass & Mirror! Our team specializes in installing, repairing, and replacing glass of all kinds. We've been serving Houston since 1978 and are dedicated to your satisfaction. Whether you need glass for your business or Houston residential glass, we're here to help you find attractive, practical, and budget-friendly solutions. Call us now at (281) 463-7801 for a free quote!