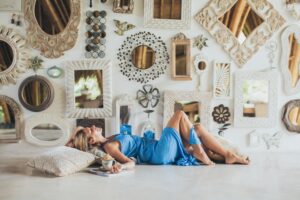 Houston residential mirrors are a great way to decorate your home. Mirrors help brighten up any space and can also make your home look bigger. In fact, many interior designers take the same level of care when selecting mirrors as they do selecting artwork. If you're interested in using mirrors to decorate your home, we have a few tips to help you choose beautiful options that work well for your space. 
Tips for Choosing the Right Houston Residential Mirrors
Choosing a mirror may sound simple, but it's anything but. It's important to consider the mirror's purpose in your space. For instance, is it primarily for a final check of your appearance, to be the focal point of the room, or to blend in and simply make the room look larger? It's important to answer this question before you look for Houston residential mirrors for your home. Once you know the purpose of the mirror, you can start deciding on essential mirror design elements, like size, shape, and frame. Here are some tips from our Houston residential glass experts.
Size of Houston Residential Mirrors
The size of your mirror can have huge effects on the room. If a mirror is too big or too small, it will look out of place in your home. If you want accent mirrors that stand out, but work well with your other décor, it's best to choose smaller Houston residential mirrors. Large mirrors are great focal points for your room, while extra large mirrors tend to be less conspicuous but do a good job of making your room look larger. 
If you're hanging a mirror over a piece of furniture, you should probably grab a measuring tape. Mirrors that are larger than the furniture they hang over can look awkward and unbalanced. In most cases you want the mirror to be smaller than the furniture. A good rule of thumb is to shoot for ⅔ of the size of the piece of furniture. So, for example, if you have a seven foot sofa, try to place a four and a half foot mirror above it. 
Shape of Decorative Mirrors
The shape of your decorative mirrors is also important for interior design. If you have a more traditional or ultra-modern aesthetic, opt for square or rectangular mirrors. Round mirrors are great for softening a space and even making it look more whimsical. Oddly-shaped mirrors, such as triangles, diamonds, or hexagons, are great for giving your room a quirky, fun feel. Just make sure the shape fits the rest of the room's decorations. 
Frames Around Mirrors
The frame around a mirror (or lack of one) also affects the look of your space. Ornamental frames are typically better suited for styles like eclectic and farmhouse. By contrast, simple, minimal frames may be better for modern or mid-century aesthetics. 
Northwest Glass & Mirror – Houston Glass Company Since 1978
Need a mirror or other glass services? Our team at Northwest Glass & Mirror are here for you. We have been a trusted Houston glass company since 1978 and serve the Greater Houston area by providing quality glass services for residential and commercial spaces. Call us now at (281) 463-7801 to discuss your glass needs with our experts.