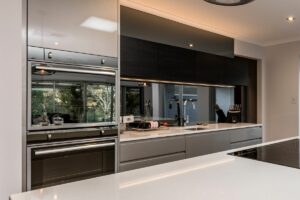 You may remember how popular it was to cover walls with Houston residential mirrors in the past. Well, this trend is back with a few modern upgrades. Mirrored walls are the perfect addition to your space and can help you make your home look bigger, brighter, and more attractive. In this article, we'll discuss why mirrored walls are popular and how to use them to be on trend in your home. 
If you need residential mirrors or glass, contact our team at Northwest Glass & Mirror today.
Advantages of Houston Residential Mirrors for Walls
Mirrored walls have a lot to offer for your home's interior design. Installing walls across the wall, whether the whole wall or just a portion, can seriously upgrade the look of any room. Houston residential mirrors do several things for your space. The reflective quality of mirrors means that they can make your room look bigger. Rather than cutting off the space with paint that stops your vision dead in its tracks, mirrors reflect the wall opposite them. This tricks the eye into thinking the room is bigger than it is. In fact, mirrored walls can even double the width of a room visually. 
Another great benefit of mirrored walls from your Houston glass company is that it can make the space look brighter. Since mirrors reflect light, they can take a dark space and immediately make it look filled with light. Lots of light also has the added benefit of making the space more attractive and also look bigger, which is another big plus. 
Finally, mirrored walls are a great way to add visual interest to what would otherwise be another boring wall. Houston residential mirrors can take the place of artwork and accent walls because they're so beautiful and visually interesting. The key is to make sure that you design your wall correctly.
Mirrored Wall Design Tips
While mirrored walls are back in style, there are a few changes from what we saw in the 80s and 90s. It's time to bring it into the modern era so you can take advantage of the benefits without making your home look dated. 
One big trend we're seeing right now is to have grid mirrors, rather than one large solid mirror. Breaking the mirrors up into different shapes on the wall is an easy way to make the wall look more interesting. It also gives you extra design flexibility. For instance, you can go with even squares or rectangles throughout the wall, or you could do a pattern like subway tile or even varying squares and rectangles to look like a modern painting. 
Also in style is using antiqued or tinted mirrors to create mirrored walls. This is another way to create visual interest and customize the Houston residential mirrors to your home. It can also reduce distractions from people checking their hair or makeup every time they walk into the room. Antiqued glass generally has a slightly cloudy appearance with areas of desilvering. Tinted glass is generally tinted a certain color, usually neutral tones like gray or copper to go with any decor.  
Northwest Glass & Mirror – Houston Glass Company Since 1978
Our experts at Northwest Glass & Mirror offer top quality services when you need Houston residential glass. We provide glass installation and repair for a wide range of projects, including mirrors, windows, and commercial storefronts. If you need glass for your home or business, contact us today to request a quote!