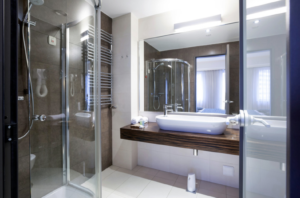 The right shower doors will enhance the appearance of your glass to brighten up this important room of your house. Working with a Houston residential glass company will provide you with added information on your available options and the right choices for your home. Consider a few factors when planning a shower door or enclosure replacement this year.
What Type of Glass Do You Want?
One of the first steps in designing your shower doors is to decide which type of glass is best suited to your needs.
Clear glass shower doors and enclosures provide superior visibility from inside and outside your shower. However, these options offer much less privacy for bathrooms that see a lot of traffic and may not be the best choice for larger families.
Frosted glass offers a greater degree of privacy during showers. It may be somewhat more time-consuming to clean, however.
Custom-designed glass shower doors and enclosures are typically available through your Houston residential glass company and can create the perfect appearance for your bath.
Your local Houston glass company is a great source of information on the types of glass available and the most practical choices for your specific set of needs.
Do You Want Shower Doors or a Shower Enclosure?
When selecting the configuration for your shower doors or enclosure, you will have a few options from which to choose. Framed shower doors are a traditional choice that can provide cost-effective utility for your home. Frameless doors, by contrast, offer a modern look and reduced clutter for your bathroom's overall appearance. Full shower enclosures are also available in both framed and frameless options. Frameless shower enclosures and doors are often a strong selling point for homes in our area, especially when combined with elegant Houston residential mirrors designed to your precise specifications. Finally, semi-frameless tub and shower enclosures are often a solid compromise between the sleek appearance of frameless installations and the stability and traditional charm of framed shower doors. Working with a Houston residential glass company is a solid step toward finding the perfect solution for your home and family.
At Northwest Glass & Mirror, we offer proven Houston residential glass services that will help your home look its best and that will offer real functionality for you and your family. Our team of glass technicians will provide you with expert help, guidance and installation services to suit your needs and your budget perfectly. Call us today at 281-463-7801 to schedule a quote or a consultation with our team. At Northwest Glass & Mirror, we are here to serve you.