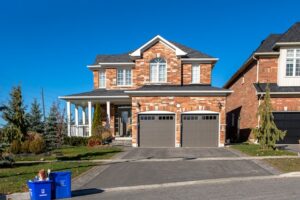 As you drive through your neighborhood, you might notice that the garage doors all look pretty similar: metal with some sort of paint. However, adding Houston residential glass is a great way to upgrade a garage door and get more curb appeal. In this article, we'll discuss the pros and cons of glass for your garage door. 
If you need glass installation or repair, call our team at Northwest Glass & Mirror at (281) 463-7801.
Why Consider Houston Residential Glass for Your Garage Door
Garage doors can feature Houston residential glass as a stylish upgrade to the traditional metal garage door. These garage doors feature glass panels framed by heavy-duty aluminum for durability and stability. There are a few different options if you want glass in your garage door. One is to choose a door with glass windows at the top of the door for an elegant look. For a really sophisticated and unique door, you can also choose all-glass options. Both come with pros and cons, so it's important to consider them before taking the plunge. 
Pros of Glass Garage Doors
There are several advantages to choosing garage doors with Houston residential glass. One is the curb appeal. Glass garage doors look modern and upscale and really make your house stand out. They also let in a lot of natural light, which is great for garages that double as workshops. Additionally, they are lower maintenance because there's less area that needs repainting. 
Cons of Houston Residential Glass in Garage Doors
However, there are also several disadvantages to glass garage doors. For instance, glass offers less privacy for your garage, particularly if you choose clear options. This is a concern if you have valuables that may tempt criminals. Glass is also not a very good insulator, meaning your garage will be more susceptible to temperature fluctuations with the weather. Glass is also a bit heavier than the thin aluminum most garage doors are made of. Adding glass also adds weight, so you might need to install a more powerful garage door opener. Finally, while most garage doors use tempered or laminated glass, it can still chip and crack. In these instances, usually you need your Houston glass company to replace the entire affected panel. 
Northwest Glass & Mirror – Houston's Glass Company
When you need glass solutions, contact our team at Northwest Glass & Mirror. We offer quality installation and repair for Houston residential glass, residential mirrors, and Houston commercial glass. We assist with everything from windows and storefronts to glass table tops and shelving. Our experts offer years of experience to help you create the perfect look for your home or business with top quality glass. Call us now at (281) 463-7801 to get a free quote!