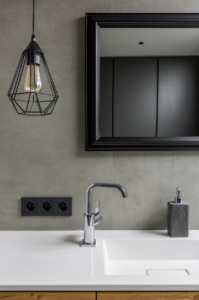 An established Houston glass company will provide guidance and support in choosing the right bathroom mirrors for your home. A few factors are likely to play a major role in your decision-making process. Keep in mind a few of these points when selecting bathroom mirrors for your Houston home.
Available Space
Making sure that your mirrors cover a good portion of the available space will allow you to expand the apparent size of your bathroom. Properly sized mirrors will ensure practical use of your wall space for checking your look and enhancing the beauty of your bathroom. Be sure to leave at least two to four inches between the bottom of your mirror and your vanity or countertop and four to six inches between your mirror and the ceiling. This will provide you with the perfect positioning for your new Houston residential mirrors.
Complementing Décor
Selecting a mirror that complements the rest of your décor will help you to create a cohesive look. If you prefer a relaxed and rural look for your kitchen and bath, a mirror with a rustic farmhouse-style frame might be right for you. Your Houston glass company will work with you to determine practical solutions for your home, budget and personal style.
Adequate Lighting
Your mirror will need plenty of light to reflect things clearly and to provide you with comfortable surroundings in your bathroom. In many cases, a row of lights over the mirror will allow light to reflect outward to fill your bathroom with light. By installing the right lighting solutions, you will illuminate the area while enhancing the beauty of your bathroom.
Unique Shapes
While a large rectangle is the most common shape for mirrors in bathrooms, opting for a round or diamond-shaped mirror can make your bath a standout for its design. Creating a custom mirror with the help of your Houston glass technicians will often allow you to make a dramatic statement when installing a mirror in your Houston home.
At Northwest Glass & Mirror, we specialize in providing Houston residential glass solutions that work with your décor and your family's needs. We design, sell and install mirrors, windows and tabletops that will make your home the showplace you have always wanted. Call our team today at 281-463-7801 to request a quote or to make an appointment with us. At Northwest Glass & Mirror, we want to be your Houston glass company.