Your home's windows help with curb appeal, energy efficiency, and protecting your home from the elements, so you want to make sure they're properly maintained! Poorly maintained windows can become damaged quicker and may need more frequent repair or replacement. As a leading Houston glass company, we have a few tips to help you keep your windows in great shape for years to come. 
Window Maintenance Recommendations from Your Houston Glass Company
Windows can last up to 25 years, but that's only possible with regular maintenance. Windows are an investment in your home, so we know you want them to last as long as possible! With a good window maintenance routine, you can help lengthen the life of your windows, as well as avoid common problems that can cost you money, like air leaks. Here are some things you can do to help keep your windows in great condition. 
Clean Windows Regularly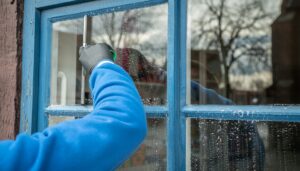 First and foremost, clean windows are a must. Obviously the cleaner the windows, the better your Houston residential glass can let natural light in, which helps make your home look great. However, cleaning isn't just for aesthetics, it's also an important maintenance step. 
Dirt and grime can act like sandpaper on glass, so cleaning can help keep the window glass in good condition. Dirt and debris can also clog up tracks and moving parts, making it hard for you to open and close your windows. Also, if your windows are dirty, it's harder to see if they need repair!
A good rule of thumb is to clean your windows inside and out once a month. However, if you live near a highway, you might need to clean them weekly because of all the dirt that gets kicked up by cars. 
Inspect Windows Each Season
It's a good idea to do a quick inspection each time you wash your windows. However, make sure you do a more thorough one at least once every season to help maintain your windows. This involves looking at the glass, the frames, the casings, and making sure the window opens and closes easily. Don't forget to look for condensation inside the window, as this usually means you have a broken seal somewhere. In addition, check the weather stripping and caulking, as these typically wear out and need replacement before your window does. For instance, you usually need to re-caulk windows about every five years and weather stripping about every three to five years. 
Call Your Houston Glass Company for Needed Repairs
If you do notice issues with your windows, it's time to make a call to your Houston glass company for repairs. A lot of the time, small damages are easy to repair for a glass specialist. However, if ignored, your windows are probably going to deteriorate more and more. For instance, a small chip in the glass can turn into a large crack over time. So, it's important to schedule repairs ASAP to help keep your windows in good condition. 
Houston Residential Glass Specialists at Northwest Glass & Mirror
Whether you need glass installation, repair, or replacement, our team at Northwest Glass & Mirror is at your service. We've been providing high quality glass services since 1978 throughout greater Houston. We offer years of knowledge and experience for all types of glass projects, from residential windows to Houston commercial glass. Call us now at (281) 463-7801 to talk to one of our glass specialists today!