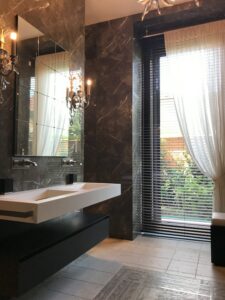 Houston residential mirrors are both practical and aesthetically pleasing. One of the most important mirrors in your home is your bathroom mirror, which allows you to check your appearance each morning. In many cases, a custom mirror for your bathroom can seriously upgrade the look and function of your bathroom. In this article, we'll discuss the benefits of custom bathroom mirrors and some design ideas to help you get started.
Why Custom Houston Residential Mirrors for Your Bathroom?
Custom bathroom mirrors are a great addition to any home. With a custom mirror in your bathroom, you know you have a one-of-a-kind mirror that no one else has. There are many reasons to consider a custom bathroom mirror. 
One reason is to ensure that your bathroom mirror fits your space. Often, the exact dimensions above your vanity are different from other bathrooms. Choosing a mirror from a store may mean that the mirror size is awkward compared to the amount of space you have in your bathroom. With custom mirrors from your Houston glass company, you can make sure the mirror is perfectly proportional for your space. 
Also, with custom Houston residential mirrors, you're in charge of every detail, from the size and shape to what the edges look like. This allows you to create a show stopping mirror that will take center stage for your bathroom. Custom mirrors are incredibly appealing and functional and can add a lot to your bathroom design.
Mirror Ideas for Bathrooms
When it comes to Houston residential mirrors for your bathroom, the possibilities are practically endless. It's key to make sure that your mirror fits the rest of your decor in your bathroom. However, there are many ways to play around with your custom mirror to really enhance your space. Here are some bathroom mirror design ideas that may inspire you:
Go Oversized:

Oversized mirrors can really make your bathroom look bigger and allow you plenty of space to check out your appearance each morning. Some even choose to do whole mirrored walls in their bathroom. 
Play with Shape:

While most bathroom mirrors are square or rectangular, that doesn't mean yours needs to be! Consider other shapes to really draw the eye and make your mirror a focal point. 
Build Mirrors Into Wall Paneling:

Wall paneling is on-trend and can make any wall look sophisticated. If you have wall paneling in your bathroom, consider building your Houston residential mirrors into the panels for an even more sleek look. 
Make it Moveable:

Whether your mirror slides from side to side or swivels to and fro, this is a great way to maximize functionality for your bathroom mirror.
As you can see, there are many ways to create the perfect custom mirror for your bathroom. Our Houston residential glass experts can help you decide on the perfect options for your home, manufacture your custom mirror, and then install it for you so you have peace of mind. 
Top Quality Mirrors from Your Trusted Houston Glass Company – Northwest Glass & Mirror
When you need glass solutions for your home, choose our team at Northwest Glass & Mirror. We've been providing the Greater Houston area with beautiful residential and commercial glass since 1978. Our team has the experience you need to restore, repair, and replace all types of glass. Call us now at (281) 463-7801 to get a free quote!