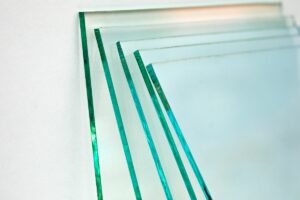 There are many ways to use Houston residential glass in your home. One increasingly popular option is to use custom glass panels as a backsplash in the kitchen. Kitchen backsplashes are a key part of any home. They offer aesthetic appeal and also catch smudges and drips from cooking and food prep. Rather than choosing tile, glass can offer many serious benefits as a backsplash. Keep reading to learn more about why you should use glass as a backsplash. 
If you need residential or commercial glass solutions, call our team now at (281) 463-7801.
Why Choose a Custom Houston Residential Glass Backsplash
Houston residential glass is a great material to choose as a kitchen backsplash. One reason is that these backsplashes look incredibly elegant. Frameless glass lends a look of sophistication and luxury wherever it is, including in your kitchen. The sleek look of glass can have a huge impact on the overall look and feel of your kitchen. 
Additionally, a glass backsplash is incredibly easy to clean, creating a more hygienic environment when cooking. Spills and splatters happen, which is what a backsplash is for. All backsplashes will experience smudges, spills of sauce, and splatters of cooking oil. It's just a fact of life. Yet, many materials used for backsplashes aren't easy to clean, especially with these types of soils. For instance, drywall and tile grout are porous and easy to stain. However, glass is simple to clean up with a little bit of soap, water, and glass cleaner. 
Glass and mirror kitchen backsplashes are also good for making your home look brighter and bigger. The glass will reflect some light, depending on the type of finish you choose. This, in turn, can make the kitchen look like it has more light and may even make it appear larger because of all that extra light. 
It's also important to note that there are many ways to customize Houston residential glass to suit your aesthetic. Therefore, you can make sure that your backsplash looks completely unique. 
Design Options for Glass Backsplashes
If you want a glass backsplash, there are a ton of options to choose from. You can choose glass panels in any size so that they look like large tiles or even seamless glass. Also, there are a variety of glass finishes to choose from. For instance, you can have clear glass, frosted glass, or even glass etched with patterns to fit your decor. You can even choose mirrored glass for the backsplash. Our Houston glass company can help you determine all your options. 
If you choose clear glass, the backsplash can also let the wall show through. This is perfect if you have a very specific paint color in mind or want to paint a pattern or mural on the wall. This way, the glass protects the paint and wall without detracting from it. 
Northwest Glass & Mirror – Your Go-To Houston Glass Company
When you need glass for your home or business, choose Northwest Glass & Mirror. We offer a wide range of services to suit your needs, whether you're looking for custom glass for a kitchen backsplash or need new Houston commercial glass for your company's storefront. We offer 45 years of service to the entire Greater Houston community. Call us at (281) 463-7801 to discuss your glass needs with our expert crew.