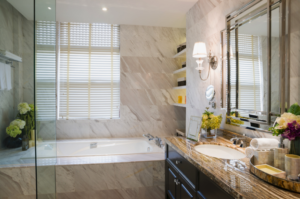 The right fixtures and amenities can allow you to turn your bath into a luxury retreat for yourself and your family. Working with a Houston glass company is an excellent way to create the perfect bathroom that will increase your enjoyment of your home while increasing its value at the time of resale. Keep reading to learn about the most sought-after additions for bathrooms in our area.
Dual Vanity Mirrors
Providing separate mirror space for couples is a thoughtful touch that will make mornings much more pleasant and efficient for your family. Working with a company that specializes in Houston residential mirrors will ensure the most beautiful and functional results for your bathroom. By establishing separate vanity areas and separate mirrors, you will be able to organize your bathroom more efficiently and will experience less stress when getting ready for work, school or play.
Frameless Shower Enclosures or Doors
One of the most beautiful and dramatic additions to your bath is an upgrade to a frameless shower enclosure. These installations will change the appearance of your bath and will allow you to showcase tiles and other decorative touches inside your shower. A Houston glass company can determine an appropriate configuration for these enclosures or doors to enhance your shower and increase the appeal of your bathroom.
Upgraded Shower Heads
The right shower head installation will create a spa-quality experience for you and your family. This is a relatively low-cost project that is well within the capabilities of a motivated do-it-yourself enthusiast. In many cases, you will be able to find an upgraded shower head online or in your local hardware store. Once it arrives at your home, the process of replacing your current shower head with a new luxury option is usually as simple as unscrewing the one already in place and screwing the new one into the same spot. Updating and upgrading your shower head is a great way to enhance your bathroom experience.
At Northwest Glass & Mirror, we offer Houston commercial glass and residential glass options for our customers. We create customized solutions that work for your available space, your personal taste and your budget. Our team is committed to providing you with the most practical glass and mirror solutions for your needs. Call us today at 281-463-7801 to discuss your requirements or to get a quote from us. We look forward to serving as your Houston glass company now and in the future.