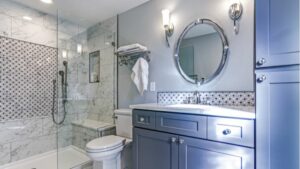 Are you looking to jazz up your bathroom vanity with a stunning new mirror? Maybe you want an eye-catching centerpiece for the wall above your sinks. You have plenty of options for your Houston residential mirrors, from classic rectangular mirrors to modern round or oval shapes.
In this post, we'll break down each style and help you find the perfect shape for your bathroom space. So stick around until the end and get ready to boost your vanity's appeal!
For a beautiful new custom residential mirror in Houston, contact the professionals at Northwest Glass & Mirror today!
Define Your Bathroom Style
Your bathroom is an important part of your home, and it should reflect your style. It's where you get ready in the morning, take a moment to yourself, or even indulge in a mini spa day. 
Whether you prefer a modern and minimalistic look or a more classic and elegant feel, your bathroom should reflect your personality and taste. There are so many style options out there, such as:
Contemporary

Cottage

Art deco

Modern farmhouse

Traditional

Coastal

Hollywood regency

Rustic

Minimalist
Eclectic
Romantic
Midcentury modern
Choose a Shape for Houston Residential Mirrors
When it comes to mirrors, three shapes seem to be the most common: round, oval, and rectangular.
Round mirrors add a touch of elegance and softness to a space.

Oval mirrors are perfect for those who want something unique. 

Rectangular mirrors provide a more traditional look without sacrificing style. 
Regardless of which shape you choose, a well-placed and thoughtfully selected mirror is an important piece in transforming your bathroom into a relaxing and beautiful oasis.
Consider the Size of Your Vanity
When it comes to designing a bathroom, it can be easy to get caught up in the fun details like paint colors and shower curtains, but it's important not to overlook the practical details like vanity size and mirror size. These two elements go hand in hand, and finding the right balance can truly transform your space. 
When choosing your mirror size, compare it to the size and materials of your vanity. Generally, your mirror should be a few inches narrower than your vanity sink area. For example, a vanity that is 36 inches wide should be paired with a mirror around 30 to 34 inches wide. In terms of how tall your mirror should be, it will depend on your ceiling height and your eye level.
With a properly sized vanity and mirror, you'll be able to enjoy a cohesive, well-designed bathroom.
Take Lighting Into Account
When it comes to selecting the perfect residential mirror in Houston, lighting is a crucial factor that you shouldn't overlook. While the shape and style of the mirror may be your primary concern, you'll need to consider how it will interact with wall-mounted or overhead lighting. It shouldn't reflect any overhead light into your eyes when you are looking in the mirror, and it needs to fit nicely between the top of your vanity and any lights above it. 
The mirror should be centered under existing vanity lights. As a general rule, the lights should be about 75% the width of the mirror, which provides a balanced look. For example, if your vanity light bar is 26 inches wide, you'll want to look for a mirror that is around 34 to 36 inches wide.
Consider Materials and Colors
The right materials and colors can make all the difference in a room's aesthetic. When you're choosing the frame for your mirror, it's important to consider how it will fit in with the other colors and textures in the space. Maybe you're drawn to the natural warmth of wood or the sleek shine of metal. Just make sure those materials will complement, rather than clash with, everything else in your bathroom. With a thoughtful approach to materials and colors, you can create a comfortable, attractive bathroom space that reflects your unique style.
Houston Residential Mirrors from Northwest Glass & Mirror
Our team at Northwest Glass & Mirror are experts in customizing mirrors for residential applications. Whether you're looking for a tall or small custom-cut mirror, we can create something truly unique that reflects your style. So don't wait any longer to get the perfect mirror for your bathroom — contact us for a quote today!