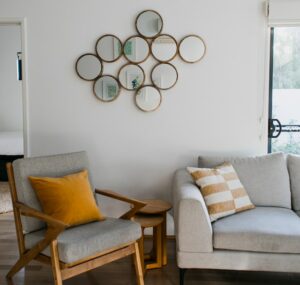 Have you considered using mirrors in your home design? Mirrors are a versatile design element that can be used in any room. Here are some ways to use mirrors in any room design:  Use them to reflect light, create the illusion of more space, or make a statement with a decorative frame. Whatever your design goals, Houston residential mirrors can help you achieve them!
Contact Northwest Glass & Mirror to get a quote for your new Houston residential mirror.
Mirrors Add a Glamorous Touch to Any Room
Add a spark of glamor to any room with Houston residential mirrors. They are perfect as a decorative item and make great conversation pieces. Hang one above your fireplace or sofa to instantly draw attention away from any blemishes or flaws in the walls. A great mirror can transform a boring room into an eye-catching showpiece. 
Plus, mirrors are also incredibly versatile and can fit just about any style, be it modern industrial or vintage elegance. Whether used as an art piece or for lighting purposes, Houston residential mirrors add that dash of pizazz your space needs!
Create the Illusion of Space with Mirrors
 Houston residential mirrors can help to create the illusion of space in smaller rooms. Strategically placed mirrors can instantly brighten up any room and generate the perception of added space. Place a mirror opposite a window to catch natural light and make it seem twice as large. 
We have the expertise needed to advise you on the right size and finish for your mirror in order to create your desired look and feel.
Use Mirrors to Add Functionality to Your Space
Mirrors have so many uses aside from decoration and style! They can be the ultimate functional piece too. For example, if you have a home gym, Houston residential mirrors can help you instantly check your form on any exercise before leaving. And when positioned in a hallway, Houston residential mirrors come in handy for making sure you look presentable as you head out the door to work or to do errands. 
Get Creative with Your Houston Residential Mirror Placement 
One of the great things about incorporating mirrors into your home décor is that there are endless possibilities. You can experiment with different sizes, shapes, and styles to find the perfect mirror for your space. Get creative and have fun with it! There are no wrong answers when it comes to mirror placement.
Mirrors are a great way to add a touch of glamor to your home. They can also be used to create the illusion of space and make small rooms appear brighter and more spacious. Additionally, mirrors can be used for functional purposes such as checking your form while working out or making sure you look presentable before leaving the house. 
There are endless possibilities when it comes to incorporating mirrors into your home décor. If you're interested in adding one or more mirrors to your Houston home, contact Northwest Glass & Mirror for a free quote!