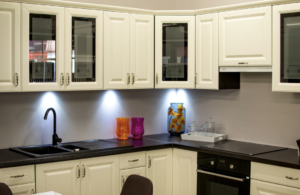 When you are re-decorating, Houston residential glass can offer a variety of design elements. Most people don't realize how many options glass offers for interior décor. However, there are many opportunities for decoration using glass. Your Houston glass company can help you with your renovation projects to bring style to your home. Read on to discover some interesting decorative options for glass inside your home.
Fluted Houston Residential Glass in Doors 
Solid interior doors can often make your space feel small and closed off. However, removing these doors means sacrificing privacy. With fluted Houston residential glass in your doors, you can have both privacy and a more open space. Fluted and patterned glass can let light in, open up a room, but still obscure areas from view. Also, this type of glass can add texture and visual interest to your home.
Colored Glass for Interior Windows
Interior windows can look awkward and out of place, but they were all the rage in the past. You can still find these windows in older houses and apartment buildings. A quick update to the glass can help these windows look more purposeful and stylish. Using colored Houston residential glass to your interior windows is a fun and quirky way to spruce them up. A hint of color can liven up and modernize your space.
Houston Residential Mirrors in Cabinets
Another charming idea is to use Houston residential mirrors inside your cabinets. Mirrors offer an interesting backsplash option that can make your cabinets look bigger and enhance the lighting inside. They can add a look of elegance to your kitchen cabinets or to china cabinets. As you can see, decorative glass and mirrors provide a variety of options that can help you achieve the best look for your home.
At Northwest Glass and Mirror, we have been providing glass solutions to the Houston area since 1978. As a leading Houston glass company, we can help you with glass replacement and repair services for both your home and your business. Our experienced technicians  work with you to determine the best, most cost-effective selections and services for your needs. Call us today at (281) 463-7801 to request a quote from our glass experts. Whether you need windows, shower doors, mirrors, or furniture glass, we are here to serve you.