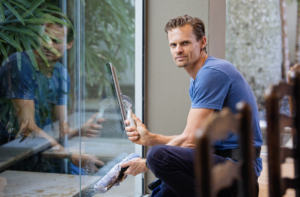 Many people are switching to natural cleaning products for various reasons. However, you may worry that natural products won't keep your Houston residential glass clean and streak free. There are plenty of solutions to keeping your glass and mirrors sparkling without using harsh chemicals.
Why Use Natural Products?
There are several reasons it might be important to you to use natural products. Ammonia is typically found in traditional glass cleaners. Unfortunately, this ingredient has a strong odor and can worsen allergies for some people. Therefore, it may be a good idea to switch to natural cleaning solutions if you or your family suffer from bad allergies. So, here are some solutions to cleaning your glass and Houston residential mirrors.
A Few Strategies to Try on your Houston Residential Glass:
In order to prevent streaks, you shouldn't use just anything on your glass and mirrors. For example, soap leaves behind a film that can make glass look foggy. Instead, you need something specifically designed for glass, with ingredients that evaporate quickly. When shopping, look for a glass cleaner that has the words "natural" or "green" on the bottles. You may also want to check with environmental groups to see which products they recommend.
On the other hand, you can also try mixing your own natural glass cleaner. There are many different homemade formulas you can use on your Houston residential glass and mirrors. Typically they include household ingredients that you likely already have, like vinegar. One simple glass cleaner you can make yourself is 1 part vinegar and 1 part water.
Cleaning Tools
Additionally, whichever solution you use, you should also think about what you are wiping the cleaner away with. Paper towels and newspaper are both great options. However, if you are looking for reusable alternatives, consider using a squeegee or microfiber cloth. It is important to make sure you are using soft materials to avoid scratching your glass and mirrors.
Northwest Glass & Mirror is an established and reputable Houston glass company. We offer quality residential and commercial glass services to fit all your glass and mirror needs. Call us today at (281) 463-7801 to request a quote on your upcoming projects or to learn more about the services we offer. We look forward to learning how we can serve you.