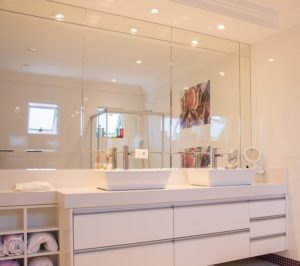 Making the most of your available space can help you feel more comfortable in your Houston home. Even in smaller rooms, you can create the illusion of larger spaces and increased elbow room by using a few simple techniques. Consulting with your Houston residential glass company can be a solid first step toward turning your interior design ideas into a reality. Here are some of the best strategies for creating a more expansive feel for your bathroom.
Mirrors
Adding mirrors to your home décor is a proven method for making all sorts of rooms and hallways look bigger. Working with a company that specializes in creating and installing Houston residential mirrors can provide you with fresh ideas about how to incorporate mirrors into your bathroom to create the appearance of a larger space. Proper placement for your mirrors is essential to ensure the most expansive results with these strategies.
Frameless Shower Doors
Eliminating the opaque curtains or the definite delineations of framed shower doors can create an impression of increased space inside your bathroom. Frameless shower doors can also increase the value of your home by establishing a fresh, sleek look for your bathroom that can add real eye appeal to this necessary room of your home. Working with a company that designs and installs frameless shower doors can make a big difference in the apparent space available in your bathroom area.
Floating Vanities
Rather than taking up room with storage space under your basin, allowing that area to remain free of clutter by installing a floating vanity or pedestal sink can be a solid step toward a more streamlined bath and a more spacious appearance for this room. A little extra space underneath the basin can sometimes add up to a big overall improvement in the perceived size of your bathroom.
Lighter Colors
Choosing lighter colors and paler shades can create the illusion of a much larger space even in small, cramped bathrooms. For added contrast, use a slightly darker shade to accent windows and mirrors while sticking to white and light hues for the walls and ceiling. This can open up the room considerably without the expense of a home addition or remodeling project.
Northwest Glass & Mirror is a Houston glass company with a proven reputation for quality work and affordable prices. We have been in the glass business for more than 35 years and have the experience and expertise you need to manage all your residential and commercial glass needs. Whether you need frameless shower doors installed or a mirror repaired, we can help with friendly, courteous service you can count on when you need it most. Call us today at 281-463-7801 to schedule a consultation. We look forward to the opportunity to help your bathroom look and feel bigger.