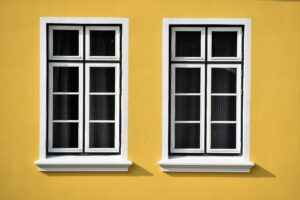 There are many ways to improve the Houston residential glass in your home. Applying window film for tinting is a low-cost way to help improve older windows. If you're not ready to replace the windows in your home, window film can offer some benefits until you can replace them. We'll cover why you might want to apply window tint to your home windows and some tips to DIY this home improvement project.
Benefits of Tinting Houston Residential Glass Windows
Window tinting with aftermarket window films offers many advantages for your home. Generally, window films offer the most benefits if you have older windows that are still in good condition. If your windows are in bad shape, however, you should probably skip the window film and contact our Houston glass company for replacement windows.
Window films can improve energy efficiency, security, privacy, and even curb appeal, depending on the film you choose. For instance, general window tint can darken windows for added privacy, less glare, and to help cool your home. Solar film takes this a step further and can block out up to 99% of UV rays, which helps keep your house cooler and also can help reduce sun fading for floors, furniture, and other items in your home. Decorative window film can also improve the look of your windows to increase curb appeal. So, as you can see, there are many reasons you might want to apply window film to your home's windows.
Tips for DIY Window Film Application
Now you know some of the reasons you might apply window film to your Houston residential glass, you might wonder how to apply window films and tints. Of course, you can always contact a professional for installation. However, this can also be a fairly easy DIY project. 
Here are some basic steps for applying window film:
Clean your windows thoroughly with water and no-tears baby shampoo

Cut the film to size (leave ½ inch extra on all sides)

Remove the backing on the film

Apply at the top of the window and work your way down

Spray the film with water or cleaning solution

Remove air bubbles with a plastic squeegee or credit card

Trim excess film from the edges with a utility knife
Here are some other tips for DIY window film for your home:
Apply the film in the early morning or in the evening. Direct sunlight can make the adhesive cure faster and leave you less time to perfect your application.

If you're renting, choose temporary films for easy removal. 

For large windows, choose a buddy to help you keep the film in place and smooth out the air bubbles.

Keep your hands moist with water or the cleaning solution to avoid fingerprints on the film.

Don't use window cleaners with ammonia or vinegar, as they can dissolve the film adhesive.

Have several blades handy for your utility knife and change them out as they start to dull. You may need to use several for your window film application.
Expert Houston Glass Company since 1978
Looking for gorgeous glass for your home? Our expert team at Northwest Glass & Mirror is here to help. We offer a wide range of solutions for all your glass needs. Whether you need new windows for your home or Houston commercial glass for your storefront, we have you covered. Give us a call at (281) 463-7801 to talk to one of our professional glass technicians!