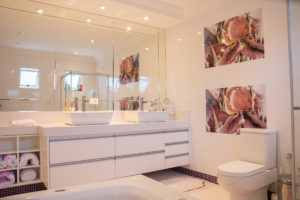 Re-designing a bathroom is an exciting project. Once you are nearly done, you'll need to choose the perfect Houston residential mirrors for your bathroom. Generally, the major things you should consider are size, frame, or frameless, and the shape that best fits your bathroom. Once you decide on these elements, you can select the best Houston residential mirrors for your new bathroom.
Sizing Your Houston Residential Mirrors for the Bathroom
One of the first things you should consider for your bathroom mirrors is what size they need to be. Generally, your Houston residential mirrors should not be wider than your vanity. Therefore, they need to either be the exact width of your bathroom vanity or slightly smaller. If you opt for an exact width match, you may need to talk to your Houston residential glass company about custom mirrors, as oftentimes it can be difficult to find the precise measurements you need. If you decide to go with a slightly smaller mirror, choose one that is about 70-80% as wide as your vanity. Then, center it based on your sink for a proportional and balanced look.
As far as height goes, you should generally choose a mirror that is no taller than your vanity. Additionally, you should select a size that allows you to mount your Houston residential mirror at least 4-6 inches from the top of your ceiling. In addition, you may need to consider the lighting in your bathroom when determining the height needed for your bathroom mirror. If you decided to go with lighting directly above your mirror, you should measure how much space between the top of the vanity and the lowest point of the light fixture. This will help you determine the maximum mirror height you can use.
Framed Vs. Frameless Bathroom Vanity Mirrors
Whether you go with a framed or frameless bathroom mirror depends on your style and décor. Generally, frameless Houston residential mirrors give your space a more modern look, save space, and are less expensive than their framed counterparts. By contrast, framed mirrors tend to be more traditional and provide an accent piece for your bathroom. These tend to be more expensive, especially if you choose a vintage mirror to fit your aesthetic. However, if you do find a vintage gem for your bathroom, your Houston residential glass company can restore it to improve its appearance.
Choosing the Shape that Fits Your Bathroom's Décor
Finally, you will also need to choose a shape for your bathroom mirror. The most common bathroom mirror shape is rectangular. Rectangular mirrors are classic and allow you to have more mirror space. They are great for minimalistic or traditional bathroom spaces.
On the other hand, round mirrors offer a more unique bathroom mirror shape. These mirrors are great to pair with pedestal sinks, which often accentuate the curves of a round mirror. Additionally, they allow you more wall space, so they are great to use if you have an interesting wallpaper you want to show off.
Also, many people use uniquely shaped mirrors as the focal point of their bathroom. Generally, these work great for an eclectic space. While these are less commonly found, they may still be a great option. If you have an idea for your bathroom mirrors, call your Houston glass company to discuss custom solutions for your home.
At Northwest Glass & Mirror, we provide high-quality residential glass and mirrors throughout the Houston area. Our experts can help you with custom glass fabrication, Houston residential glass repair, vintage glass restoration, and more. With our experience and skills, we are sure we'll exceed your expectations. Call us today at (281) 463-7801 to learn more or request a quote. We look forward to the opportunity to work with you.