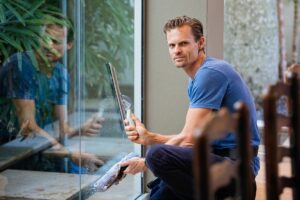 Your home's windows protect your family and belongings from the elements, so you want to keep them in the best possible condition. Your Houston glass company recommends performing regular maintenance to keep windows in top shape. Regular window maintenance helps protect your windows from harm and prolong their lifespan. In this article, we will explain some important parts of regular window maintenance. 
Why Your Houston Glass Company Recommends Window Maintenance
Many homeowners neglect window maintenance. It's a common misconception that windows don't actually need maintenance, but that couldn't be farther from the truth. While residential windows are often low maintenance, that doesn't mean they don't need your attention from time to time. In fact, routine maintenance can help you detect issues early on so you can repair them before you need total window replacement from your Houston glass company. This can help save you money and also keep your windows in good condition for much longer. 
Tips for Maintaining Home Windows
Our Houston glass company has many tips to help you maintain your home's windows properly. Taking these basic window maintenance steps is a great way to prolong the life of your windows.
Clean your windows inside and out once a month to not only stop scratches and deterioration from dirt and debris, but also to make your home look cleaner and brighter. Cleaning your home's windows is similar to how you clean your Houston residential mirrors. You start by removing stuck on dirt and grime with water and a mild detergent. Use a microfiber cloth or another soft cleaning tool to wipe away caked on grime from the inside and outside of the window. Don't forget to clean the window frames and tracks as well for best results. Follow up with a glass cleaner on the glass panels of your windows for a streak-free finish. 
While cleaning your windows, perform some basic inspection as well. Inspections help with early detection of window issues. As you clean, look for any signs of damage or wear and tear. For instance, cracked, chipped, or scratched window glass or missing areas in the caulking around the window. Also look for damage to the window frame and open and close the window to make sure it works properly. 
In addition, you want to clean and lubricate the moving parts of your window once or twice a year. Use a vacuum to remove any dirt or debris trapped in the window tracks and follow up with a soft, non-abrasive cleaning solution. Once clean, use a silicone lubricant on the tracks to prevent the window from sticking. You can find spray-on silicone lubricants for your windows at most hardware stores. 
Northwest Glass & Mirror – Trusted Glass Company since 1978
For all your glass needs, choose our experts at Northwest Glass & Mirror. We are proud to serve the Greater Houston area with high quality glass repair and installation. Whether you need services for your home's windows or are looking for sophisticated Houston commercial glass installation, we have exactly what you need. We've been providing high quality services for residential and commercial glass since 1978 and are certain we can find solutions that fit your needs and budget. Call us now at (281) 463-7801 for a free quote!