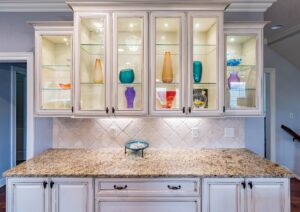 Glass front cabinets are all the rage, and for good reason! They help brighten and open up your kitchen. If you're thinking about having your Houston glass company install some in your home, take some time to read a few tips on how to keep your kitchen looking great with glass front cabinets.
Pro Tips for Styling Glass Front Kitchen Cabinets from Your Houston Glass Company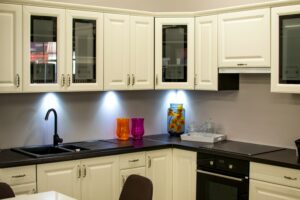 One of the first things to think about if you want your Houston glass company to install cabinets with glass doors in your kitchen is how organized you plan to be. Crystal-clear glass is beautiful, but will show every flaw. If you're a little concerned about that, consider having our Houston residential glass professionals install frosted or textured glass. This can hide some disorganization but still help your kitchen look bigger and brighter.
If you want clear glass doors on your kitchen cabinets, but have a few things you don't necessarily want to display, pick up some stylish bins or baskets. This is the perfect way to hide things like old Tupperware. 
Stick to a Color Scheme
Whether you have clear or textured glass cabinets, sticking to a color palette can help keep everything in your kitchen looking cohesive. Try choosing one or two colors for your dishes to keep things looking neat and organized. This way, everything matches, even if your dishes are different sizes.
Keep Things Organized and Balanced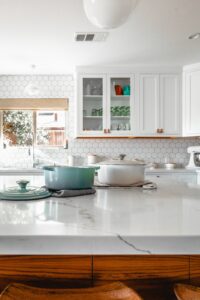 Another thing we recommend when installing glass cabinets is to keep things organized! Glass door kitchen cabinets mean you need to keep things tidy. Otherwise your kitchen could end up looking cluttered or topsy-turvy.  
Also, try to create balance in your new cabinets. Keeping all the big items on one side and all the small ones on the other can start to look a little messy. Instead, try to keep things semi-symmetrical to create a nice look in your cabinets.
Make Sure Your Most-Used Dishes are Accessible
Now, no matter how well-styled glass front cabinets are, they're of no use if they're not functional! Your Houston glass company recommends keeping the things you use every day easily accessible. For example, try keeping more decorative, less-used pieces on top shelves and the plates you use at dinner each night toward the bottom.
Don't Forget to Wipe the Glass Down Regularly! 
Another great advantage of glass front cabinets is that they're the perfect compromise between closed cabinets and open cabinets. The glass helps open up the look of your kitchen, but also helps keep dust out of your dishes!
Nonetheless, we recommend wiping down the glass frequently. Just like mirrors and other Houston residential glass, cabinets with glass doors can pick up fingerprints and smudges that make them look dirty. In the kitchen, you also have to think about cooking grease. So, be sure to give glass front cabinets a good wipe-down about once a week to keep them clean and sparkling.
Residential Glass Experts at our Houston Glass Company
Looking for beautiful glass solutions for your home? As a leading glass company, our team at Northwest Glass & Mirror are here to help! We offer gorgeous, affordable options for any glass project. Whether you're looking for glass front kitchen cabinets, new windows, or Houston commercial glass, we can help you find the perfect solutions for your needs and budget. Call us today at (281) 463-7801 to talk to one of our experts!