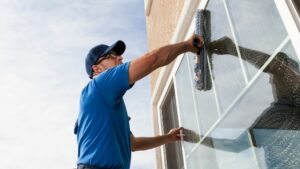 As a professional building owner in Houston, keeping your property's commercial glass windows sparkling clean is an important part of attracting foot traffic and maintaining a positive impression.
However, with commercial window cleaning being such an involved process, it can be difficult to decide how often you should schedule service for this vital task. With the right tips from the experts on frequency and technique, however, you can keep your windows looking their best all year round! For all your Houston commercial glass needs, contact Northwest Glass & Mirror.
Various Factors Determine Your Window Cleaning Schedule
If you're a business owner in Houston with commercial glass windows, you know how important it is to keep them clean. But how often should you have them washed? Well, the answer depends on a variety of factors, such as the location of your building, the surrounding environment, and the amount of foot traffic your windows attract.
For some businesses, having their windows cleaned every two weeks is necessary to maintain a polished appearance. Others may only need their windows washed twice a year. Regardless of your cleaning schedule, one thing is certain—having clean windows makes a great impression on customers and visitors. So, make sure to determine the best washing frequency for your Houston commercial glass to keep your windows crystal clear and your business looking its best.
Houston Weather
Living in an area with unpredictable weather can be a challenge, especially when it comes to keeping your commercial glass windows clean. Whether pouring rain or windblown dust and dirt, the elements can take a toll on the appearance of your business.
Houston is no stranger to extreme weather conditions, which means that more frequent cleanings are often required to keep your windows looking their best. Clean windows not only improve the aesthetic of your business, but they can also create a more welcoming atmosphere for your customers and employees alike. In a city like Houston, a little extra effort to keep up with the weather can go a long way in maintaining the image of your business.
Your Building Location
The location of a building can have a significant impact on the maintenance of commercial glass windows. Buildings that are situated near busy roads tend to accumulate more dirt, dust, and other debris on their windows than those that are located in quieter areas. This means that building owners and maintenance staff need to clean Houston commercial glass windows more frequently to keep them looking spotless.
Your Type of Business
Typically, restaurants, hospitals, and other medical facilities require a higher level of sanitation compared to other types of businesses. In these cases, it may be necessary to have your windows cleaned more frequently to ensure a clean and hygienic environment for your customers and employees. A clean environment not only gives customers peace of mind but also promotes a healthy and safe atmosphere.
Number of Visitors
As a commercial building owner in Houston, one of your top priorities is maintaining a clean and professional image for your visitors. However, the frequency at which you need to clean your glass windows can vary depending on the number of visitors you receive on a daily basis. If you have a high volume of foot traffic, your windows are more prone to accumulating dirt and smudges which can be unsightly and uninviting.
Additionally, the type of clientele you attract can also impact how often you need to clean your windows. For example, if your building is frequented by kids, then you should expect more fingerprints and smudges on your windows. Ultimately, keeping your glass windows clean and well-maintained is not only important for aesthetics but also for the safety and enjoyment of your visitors.
Houston Commercial Glass Experts
At Northwest Glass & Mirror, we are honored to be your Houston commercial glass experts and have provided our clients with superior products and services for years. We boast a knowledgeable team of experts who are more than happy to lend their expertise to every project.
Our commitment to providing top-notch quality materials and results speaks for itself. If you're looking for dependable commercial glass products in Houston, contact us for a quote today.