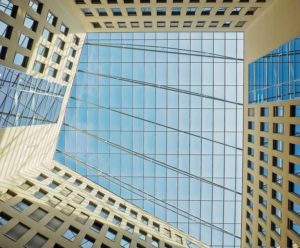 Skylights can provide an elegant appearance for the interiors of commercial buildings. These window solutions are ideal for expansive overhead spaces and to allow natural light into office areas, retail spaces and other occupied areas. Working with an established Houston glass company can ensure the most attractive and functional results for your business. Here are some solid benefits of skylights in the corporate world.
Reduced Energy Consumption
According to the U.S. Energy Information Administration, commercial and residential lighting accounted for approximately 10 percent of the electricity used in the United States in 2016. Skylights can cut down on the amount your company spends on lighting by replacing artificial light sources with the natural light produced by the sun. This can result in lower utility bills and a reduced carbon footprint for your Houston business.
Improved Productivity
Studies have shown that natural light has a positive effect on alertness and the ability to perform tasks effectively. Skylights can allow workers to enjoy these benefits throughout the business day, allowing your company to achieve enhanced morale among your key staff members. This can translate directly into greater productivity that can significantly affect the financial bottom line of your business.
Better Health
According to medical research studies, prolonged exposure to artificial light can increase physical stress and lead to the buildup of elevated levels of cortisol in the blood. Excessive cortisol levels have been linked to premature aging, fatigue, weakness in the muscles, bone loss, and a variety of emotional and cognitive issues. Ensuring that workers receive plenty of natural light can help to improve their general health now and in the future.
A More Attractive Indoor Environment
Skylights can enhance the appearance of your buildings and increase their appeal for staff members, customers, and members of the public. Our Houston commercial glass technicians can repair and replace these beautiful window treatments of your existing décor and can help you determine the most effective way to increase available natural light throughout your facilities. This can help you achieve the most attractive results with the skylights in your existing office spaces or retail locations.
At Northwest Glass & Mirror, we specialize in providing the Houston residential glass and commercial glass solutions our customers need to enjoy their properties to the fullest. Our skilled technicians will work with you at every phase of your project to ensure that your glass is installed correctly and according to your exact set of specifications. Call us today at 281-463-7801 to schedule a free quote. The entire team at Northwest Glass & Mirror is here to serve your glass installation and repair needs.
Save