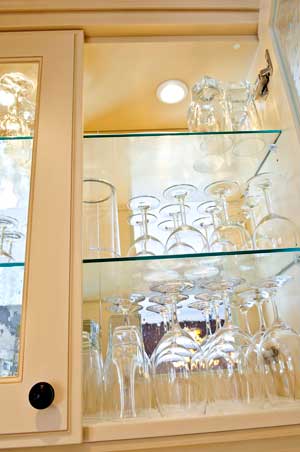 Incorporating glass into your interior design schemes can brighten your living spaces and enhance the beauty and functionality of your entire home. Glass shelves are an especially stylish and practical way to combine added storage space with a decorative flair. Your local Houston residential glass company can often provide you with customized solutions designed to suit your home and your needs perfectly. Here are some of the most important advantages of using glass shelves in your home décor.
The Vanishing Act
Glass shelves offer a low-profile way to showcase your prized possessions. Because these shelves are see-through, they do not detract from the focal points of your displays and can often vanish into the background, allowing your artworks, keepsakes, and knickknacks to stand out and be noticed. Glass shelves block much less light, allowing your display areas to look brighter and more beautiful.
Perfect for Any Décor
Glass shelves and enclosures are ideal for modern designs but can be paired with traditional décor and many other interior styles. The versatility of these installations can provide greater flexibility when furnishing and decorating your home, allowing you to enjoy your glass shelves and installations even if your style choices change.
A Space for Reflection
Working with a company that specializes in creating custom Houston residential mirrors can provide added options for opening up smaller rooms and enhancing the beauty of larger ones. Glass shelves with backing mirrors can reflect light and increase the apparent size of your interior space, allowing you to enjoy more expansive views even in smaller rooms in your home.
Strong and Durable
Despite its appearance, glass is surprisingly strong and can be configured to hold heavier objects and to provide solid structural support for shelving throughout your home. By working with a Houston glass company that specializes in creating customized solutions for home and business, you can be sure that your glass shelves will stand up to everyday wear and tear and look great for many years to come.
The experts at Northwest Glass & Mirror can provide you with the most comprehensive Houston residential glass services in the area. We design and install shower enclosures and doors, mirrors and shelves, and sturdy glass tabletops. We can also provide repairs and replacement glass for doors and windows, allowing you to enjoy the greatest degree of curb appeal for your Houston home. To learn more about our full lineup of services or to discuss your shelving needs with one of our skilled glass technicians, call Northwest Glass & Mirror today at 281-463-7801. We look forward to helping you design the glass accents to give dimension to your home and office.
Save