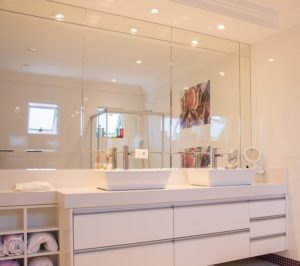 Including Houston residential mirrors in your home décor can open up smaller rooms and provide visual interest for larger expanses. Understanding how mirrors are made can help you select the right mirrors for your interior spaces. Here are some key facts about the history of mirrors and the available options for your home.
The History of Mirrors
It is likely that pools of water served as the first mirrors for humans. By 6000 B.C., people had begun to polish stone materials like obsidian to create a more portable reflective surface. Polished copper mirrors dating back to 4000 B.C. have been found in Mesopotamia. These early mirrors provided only a dim or blurry image. It was not until the third century A.D. that glass mirrors with metal backings were prevalent among the ruling classes. Plate mirrors are among the most common types of Houston residential glass and are available in a range of colors, sizes, and configurations designed to suit various areas of your home.
Type of Plate Mirrors
Mirrors consist of three basic layers:
Each of these layers can be adjusted to change the appearance of the mirror and to complement existing décor for your Houston home. Glass can be tinted in a number of different colors to enhance the quality of light inside your house. Plate glass is available in a number of different thicknesses:
1/4-inch glass offers solid durability and is considered the industry standard for most residential mirror applications. These mirrors can be too heavy for some installations, however.
3/16-inch and 1/8-inch glass is thinner and is not suitable for mounting on walls because of the risk of flexing and distortion. Your Houston glass company can provide you with expert advice on the right thickness for your mirrors.
The silvering on the back of your mirrors can be mottled or patterned to create an antique look. Silvering materials may include aluminum or silver. Coatings are applied to protect the silvering and prevent it from being damaged during installation or transport.
The expert technicians at Northwest Glass & Mirror can provide you with the guidance and support you need to enhance your home's décor with custom mirrors. By working with us, you can enjoy the widest array of choices and the best quality products for all your glass and mirror repair and installation needs. Call us today at 281-463-7801 to discuss your project with us and to schedule an appointment with one of our experienced glass technicians. We look forward to the opportunity to work with you.