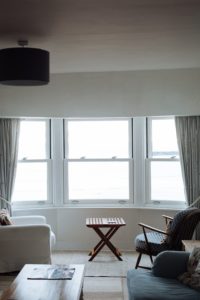 Windows are important attributes of a building. They provide light and air to the occupants and contribute to a structure's architectural style. They also add to the street appeal of a property. Windows provide security from pests, intruders and weather. Keeping windows in good repair is an integral part of building maintenance. If the windows of your Houston home are sticking, drafty, have broken panes or show signs of moisture, a professional Houston glass company can correct the problem.
Condensation and Moisture
Moisture is a sign of several problems. It can form between the panes of double or triple-pane windows, along the bottom of the glass or in the center of gas-filled panes. Condensation forms when indoor humidity is high. Cold air cannot hold as much moisture as warm air. When warm air come in contact with glass, which is cool, moisture forms.
Condensation can damage window frames, walls, paneling and insulation. Because moisture-laden air seeks dry air, it can flow through walls, wood, brick and other materials. This can damage paint and structural elements of the building shell.
There are ways to reduce moisture. Increasing ventilation combats condensation. Use ventilation fans in bathrooms, laundry rooms and kitchens. Ask a Houston residential glass company to evaluate the condition of your windows. If seals are worn, moisture can infiltrate between panes. In gas-filled windows, the gas may have leaked out.
Improving the thermal quality of windows will help prevent condensation. Houston glass company professionals can repair leaks and improve thermal values.
Drafts
Drafts occur when air passes through the frames or around the panes. Weatherstripping and caulking can seal holes and leaks. However, if your windows are old, replacing them with energy-efficient models will improve comfort. Approximately 30 percent of the heat energy of a home is lost through windows during the winter. Upgrading to windows with better thermal values will save energy and reduce fuel bills.
Sticking Casement Windows
There are several reasons why casement windows stick. Moisture makes wood swell, which affects the ability of the sash to slide. If the track is dirty, dust and debris can cause windows to stick. When the foundation of a house shifts, windows and doors may become misaligned. Sometimes mechanical elements wear out. Cleaning the sash, applying new weatherstripping and lubricating the tracks may solve the problem. However, moisture or worn parts may require professional services.
Northwest Glass & Mirror is a full-service Houston glass company, providing repairs and new glass installations for homes and businesses. We offer an array of glass products, including low-emissivity glass to reduce solar gain, tempered glass, safety glass and insulated glass. We also provide custom installations of Houston residential mirrors, shower enclosures and door inserts.
If you have problems with window condensation, need to repair broken panes or want to improve energy efficiency, call the experts at Northwest Glass & Mirror at 281-463-7801.